A good portion of the book Deadball takes place in Detroit during Byron Bennett's pilgrimage to the motor city for the Tiger's final season at the Corner of Michigan and Trumbull.
In Deadball, Byron visits Tiger Stadium in May 1999 for a three-game series against the visiting Baltimore Orioles.
The trip I took to Detroit that season was later in the summer, during the Orioles' final road visit to Tiger Stadium.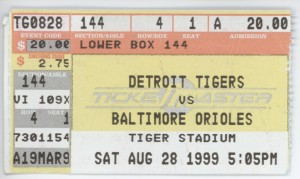 My trip to Detroit was taken long before I came up with the story line for Deadball, although much of the atmosphere of Tiger Stadium described in the book came from that visit.
I recall being disappointed and amazed on that trip that the City of Detroit would allow such an incredible historical time piece to slip away, just as Baltimore was in the process of doing with Memorial Stadium.
The view of the field, obstructed by iron support columns, helped give Tiger Stadium character that has been stripped from today's modern ballparks.
The Corner of Michigan and Trumbull remains hallowed ground, even though Tiger Stadium is now long gone.  As Byron Bennett would have observed, it is now just another lost ballpark.