If you've read the first chapter of my book, Deadball, A Metaphysical Baseball Novel, you know that Union Park, home to the 1890's National League Baltimore Orioles, was once located at the corner of Guilford Avenue and East 25th Street in the Harwood section of Baltimore.  The original design for the book cover contemplated superimposing an 1897 picture of the old Union Park playing field over a picture of what has been built in its place.  Taking that picture, however, from one of the roof tops of houses located on East 24th Street, proved difficult to recreate, so we opted to use the picture of Union Park that now appears on the front and back covers of Deadball.
That picture of the front entrance to Union Park on East 25th Street, circa 1895, was provided to me courtesy of the Maryland Historical Society and appears in this blog, also courtesy of the MHS.  In March 2011, my brother and I made one of my many pilgrimages to the former site of Union Park on East 25th Street to take pictures of the houses built in place of Union Park's old, wooden grandstand and main entrance.  We brought with us a copy of the 1895 Union Park photograph in an effort to recreate the shot.
As you can see, there is a red brick building that appears in both the present-day photograph of East 25th Street and in the background of the1895 Union Park photograph.  That building, at 321 East 25th Street, currently houses the St. Ambrose Housing Aid Center.  The building provided us the necessary reference point for taking our photograph for the book cover.  In an attempt to get the proper vantage point, I took a picture of East 25th Street with the 1895 photograph also in the shot.  The actual picture that graces the cover of Deadball is set forth below.
Huntington Park Publications' graphic designer extraordinaire, Jim Morris, among other things, superimposed the 1895 photograph over the above picture, creating a ghostly image of the ballpark and the spectators on the sidewalk.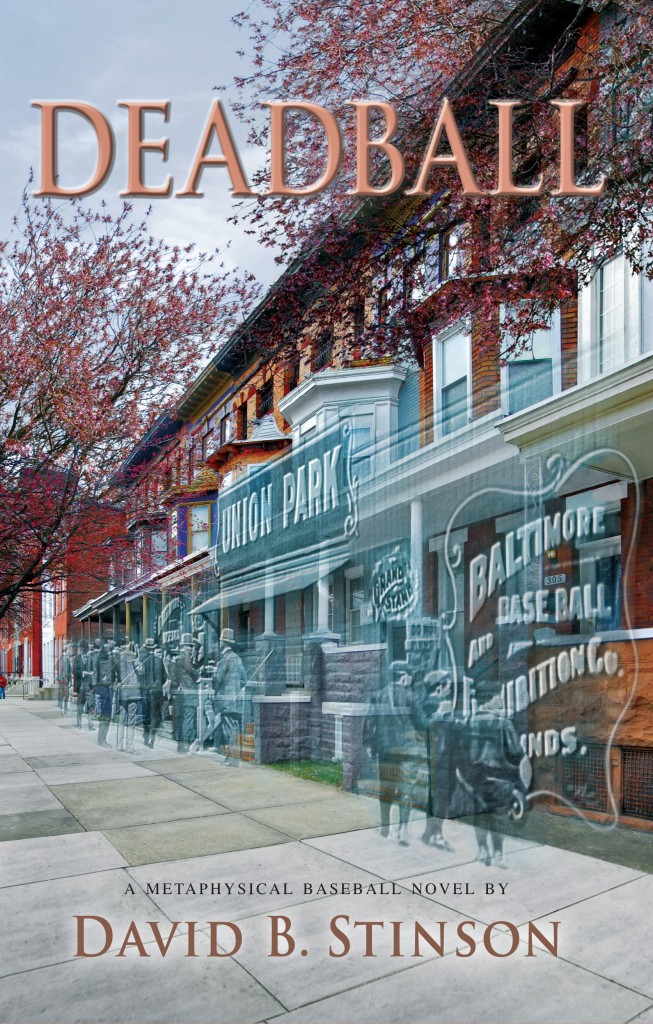 Because of differences in the photographic equipment used to take the two pictures, I was unable to recreate the exact 1895 shot.  As such, Jim Morris pieced together additional shots of the tops of the buildings and elongated the sidewalk to create the picture as it appears on the book.  For aesthetics, the shot of Union Park was placed a little bit to the east of its actual, former location.
DBS