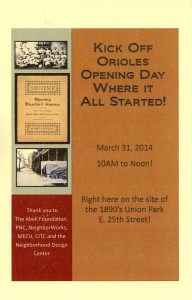 It was March 31, 1894, and the National League Baltimore Orioles soon would begin their 1894 campaign, which ultimately brought Baltimore it's first baseball championship. The Orioles opened at home that year on April 19th with a game against the New York Giants.
A mere 120 years later, on March 31st – Baseball's Opening Day 2014 – that Championship Season was celebrated by St. Ambrose Housing Aid Center at the former site of Union Park, where the National League Orioles once played.
St. Ambrose, whose offices are located at 321 East 25th Street, held an open house  celebrating the reopening of its "Green Room." Named after one of its founders, the Green Room is located in the basement of the building and provides community space for the furthering of St. Ambrose's worthy mission.
The building at 321 East 25th Street has great historical significance to our National Pastime as it was once located adjacent to Union Park's grandstand and its parking lot was once part of the actual playing field. 
The back of the building can be seen in the 1897 photograph below – it is the house with the distinctive pitched roof just to the right of Union Park's grandstand.
Here is that building today:
I had the pleasure of attending St. Ambrose's open house as a guest speaker. After the event , I took a tour of the  building, heading to the third floor for a panoramic view of Union Park's former playing field as seen through the two windows located just below the tip of the roof.
For nine seasons, from 1891 to 1899, the view through those windows was one of the finest in all of baseball, providing witness to the feats of some of the game's greatest ballplayers, including Orioles Hall of Famers Dan Brouthers, Hughie Jennings, Wilbert Robinson, Willie Keeler, John McGraw, Ned Hanlon and Joe Kelley. Indeed, on that spot, the Orioles won three consecutive National League pennants, from 1894 to 1896.
Today that field is a parking lot, surrounded by row houses and brick garages. But 120 years ago, it was the center of baseball in Baltimore. St. Ambrose Housing Aid Center is proud of its connection to Baltimore baseball history and there is talk of honoring Union Park and the old Baltimore Orioles with a wiffle ball game to be played in the parking lot where Union Park's infield once sat. Should those plans come to fruition, I will post information on this site.