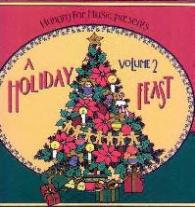 A few years back – 15 to be exact – I had the pleasure of collaborating with singer songwriter Julie Sanderson on an original Christmas song –  Christmas 1864. She wrote the music and I wrote the lyrics,. The song was released on one of  Jeff Campbell's wonderful Hungry For Music Holiday Feast CD's (Volume 2). It has since been re-released on A Holiday Feast, Creme de la Creme. Julie Sanderson sang and played guitar on the song. Accompanying her were Pete and Maura Kennedy. Pete also produced the song and recorded it in his studio. His masterful instrumental accompaniment gave the song a distinctly Civil War feel.
Just before Thanksgiving this year, my brother Jim and I put the song to video, using public domain Matthew Brady images of the Civil War, most taken in and around Petersburg, Virginia, which is where the song's story took place. Here's the video: Christmas 1864 Youtube Video. Go ahead, give it a click.
For those of you looking for a little holiday mood music, what better way to rekindle the excitement of Christmas than listening to a song lamenting the stark reality of Christmas during wartime. For those of you looking for a place to round out your end-of-the-year gift giving, Hungry For Music is a non profit organization dedicated to  providing musical instruments to young people who otherwise cannot afford them. Here is a link to that fine organization: Hungry For Music.